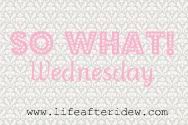 So What Wednesday

So what if I am always a little nervous at job interviews. I think I made a pretty good impression today.

So what if cleaning out my closet left me with way too many clothes still. I just have some strange attachment to most of my old t-shirts. And hoodies. It's a slight problem.
So what if I spent a good amount of yesterday working on DIY projects. They turned out GREAT and I can't wait to share!
So what if I'm starting to freak out about how little time I have before I move. (I still have so much to do!) But I know everything will come together in the end...usually with very little sleep ;)