I decided to give it a whirl myself.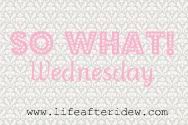 So What Wednesday
So what
if don't really have the time to be posting this today. I'm trying to be a better blogger, and it really is just something to give me a needed distraction from my looming to-do list.
So what if I really have no free time to do typical summery things this summer. All the hours I'm clocking at my internship and job will be worth it in the long run.
So what if I prefer to make long drives in the dead middle of the night. There's no traffic, and people can't see me rocking out to my music.
So what is my 21 by 21 list has been on the back burner. I still have six months left!
So what if I don't fully understand Google+ yet. It could be the next big thing, and the social media fiend in me is determined to master it.
So what if it is only July and I am planning am planning a trip to Vegas for next March. The earlier you plan, the cheaper it is sure to be. And we're college students. Cheap is how we live.
What are you saying so what about this week?